HIGH-LEVEL FORUM ON HONG KONG MARKET'S FUTURE ROLE AS CHINA OPENS FURTHER
01 Jun 2018
Prominent financial experts from Mainland China and Hong Kong took part today (Friday) in a lively discussion to review Hong Kong's contributions to China's opening up, and the role the city can play as the country enters a new phase of capital market reforms, at a forum held at Hong Kong Exchanges and Clearing Limited's (HKEX) Connect Hall.
The forum, titled "A New Journey for a New Era – The Future of Hong Kong's Capital Market," marked the 40th anniversary of China's reform and opening up, and was attended by over 400 distinguished guests, including senior representatives from regulators, industry groups, corporates, and investors.
C Y Leung, Vice Chairman of the National Committee of the Chinese People's Political Consultative Conference and initiator of the forum, said: "For the past 40 years, Hong Kong has been an active and devoted contributor to China's reform and opening up.  At the same time, the country's reforms have been a key impetus for the city to build up its core strengths."
"In this new era of China's capital market development, Hong Kong must renew its mission to play a new role.  It is my hope that today's forum helped us start exploring more ways for Hong Kong's capital markets to support the country's plans at a time of deepening domestic reforms and international connectivity," said Mr Leung.
"We are very honoured to welcome many distinguished experts and leaders from the financial industry to the forum.  This underscores the importance that China has placed on Hong Kong's capital market development," Mr Leung added.
Edward Yau, Acting Hong Kong Financial Secretary, said: "The financial services sector is a key pillar of Hong Kong's economy.  As an international financial centre, Hong Kong has a very open and international marketplace, talented professional workforce, well-established infrastructure support and robust regulatory regime.  Hong Kong is also our country's global financial hub, with the unique position of connecting Mainland China's market with international markets.  As the Mainland and global economies enter a new phase of development, we believe Hong Kong's financial services industry will need to play an even more proactive role."
"Meanwhile, Hong Kong will seize the immense opportunities brought by the Belt and Road Initiative, while leveraging on the unique strengths of One Country, Two Systems, to drive its financial services industry to support the economic development of the country, and even of the entire region," said Mr Yau.
HKEX Chairman Laura Cha said: "Hong Kong's capital markets could not have attained the scale and international prominence they have today without Mainland enterprises' listings since 1993.  On the other hand, through Hong Kong's capital markets, Mainland enterprises not only had access to freely-convertible capital, but were also driven by market forces to raise their standards of governance and transparency, helping many to develop into leading international corporations."
"This win-win development is a shining example of Hong Kong maximising its strengths while contributing to China's development.  Now, following our biggest capital markets reform in 25 years, we are embarking on a new chapter that embraces the burgeoning new economy.  We are confident of our future prospects as we serve the needs of companies in the innovative and biotech industries," said Mrs Cha.        
The forum was co-organised by the Chinese Association of Hong Kong and Macao Studies, the One Country Two Systems Research Institute, the Chinese Financial Association of Hong Kong, the Chinese Securities Association of Hong Kong, and HKEX.
The forum was co-sponsored by the Hong Kong Securities Association, the Hong Kong Securities Professionals Association and the Institute of Securities Dealers.
A webcast of the forum, which was conducted mainly in Putonghua with English simultaneous interpretation, is available here.
Mrs Cha's speech can be downloaded here (available in Chinese only).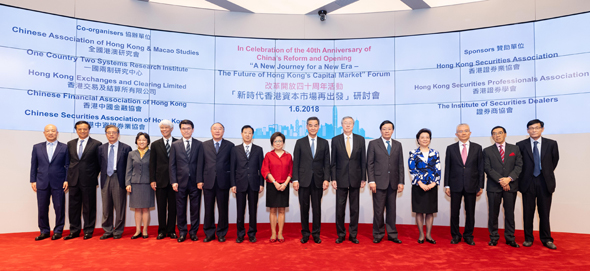 Distinguished guests at the forum included: (from left) Fang Fenglei, Chairman of Hopu Investments;  Charles Li, HKEX Chief Executive; Tu Guangshao, Vice Chairman and President of China Investment Corporation; Jin Qi, Chairman of Silk Road Fund; Joseph Yam, Non-official member of Hong Kong Executive Council; Edward Yau, Acting Hong Kong Financial Secretary; Huang Qifan, Vice Chairman of Financial Committee of the 12th National People's Congress; Jiang Yang, Vice Chairman of China Securities Regulatory Commission; Laura Cha, HKEX Chairman; C Y Leung, Vice Chairman of the National Committee of the CPPCC; Zhou Xiaochuan, former Governor of the People's Bank of China; Lou Jiwei, Chairman of the National Council for Social Security Fund; Qiu Hong, Deputy Director of the Liaison Office of the Central People's Government in the HKSAR; Xu Ze, President of the Chinese Association of Hong Kong and Macau Studies; Carlson Tong, Chairman of Securities and Futures Commission of Hong Kong; and Levin Zhu, Consultant of China International Capital Corporation.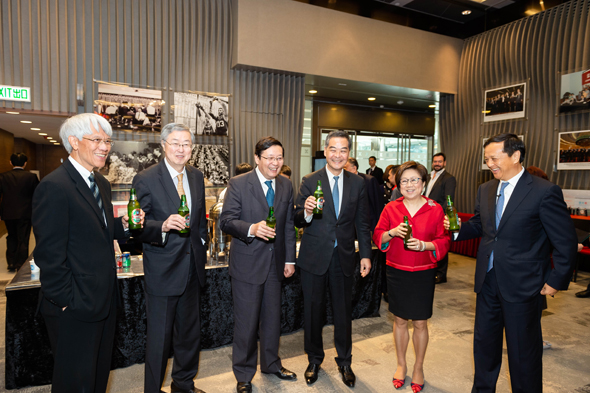 (From left) Joseph Yam, Zhou Xiaochuan, Lou Jiwei, C Y Leung, Laura Cha, and Charles Li enjoying some Tsingtao Beer to celebrate 25 years of H-share listings in Hong Kong.  Tsingtao Brewery was the first H-share company to list in Hong Kong. Its listing in 1993 was a major milestone in China's opening up.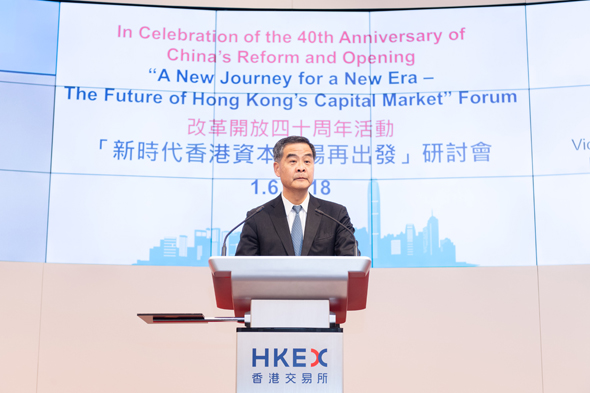 Vice Chairman of the National Committee of the CPPCC C Y Leung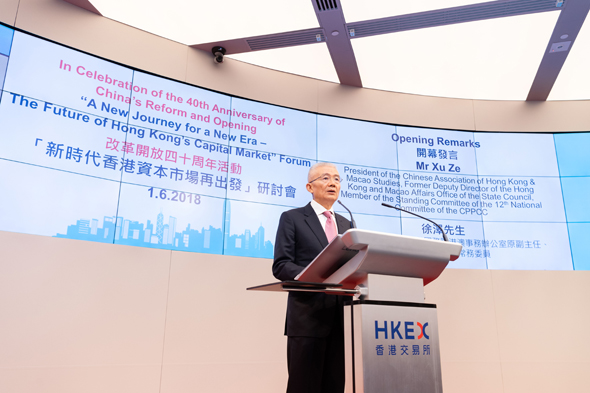 President of the Chinese Association of Hong Kong and Macau Studies Xu Ze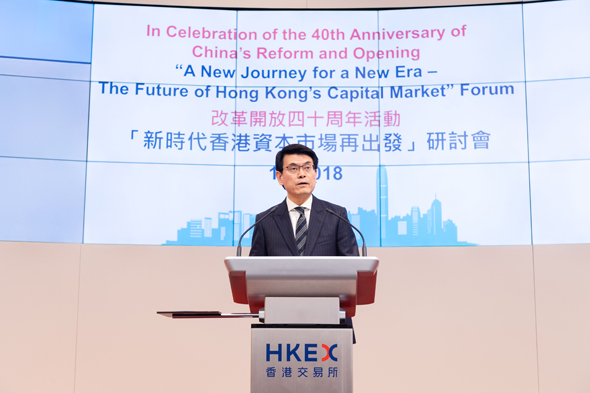 Acting Hong Kong Financial Secretary Edward Yau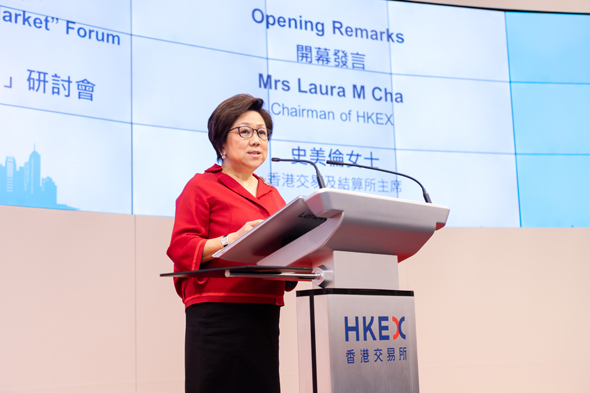 HKEX Chairman Laura Cha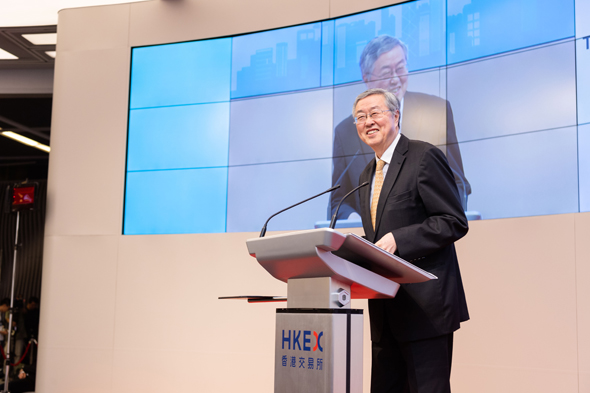 Former Governor of the People's Bank of China Zhou Xiaochuan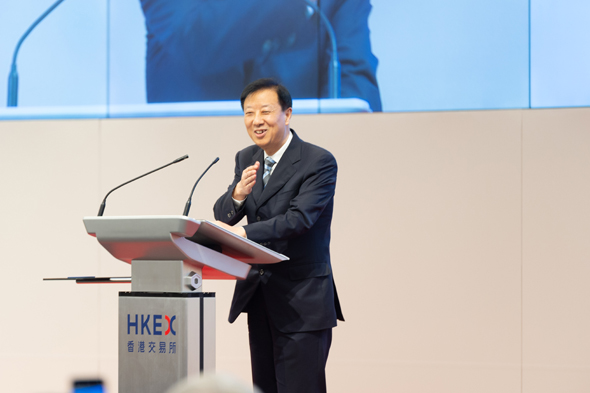 Vice Chairman of China Securities Regulatory Commission Jiang Yang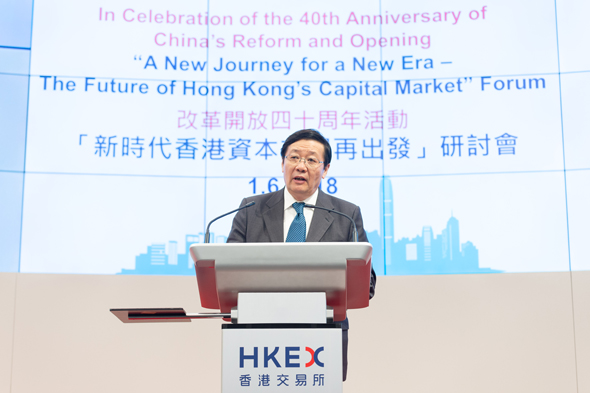 Chairman of the National Council for Social Security Fund Lou Jiwei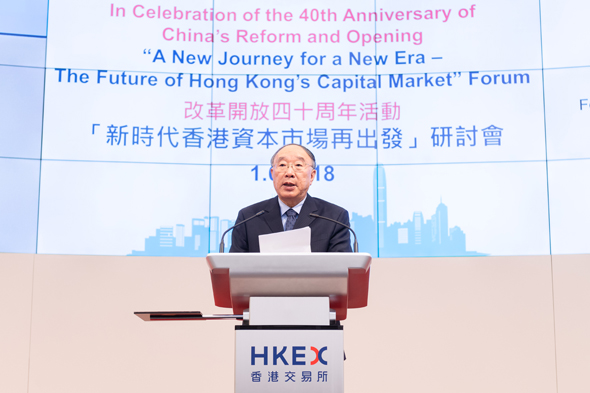 Vice Chairman of Financial Committee of the 12th National People's Congress Huang Qifan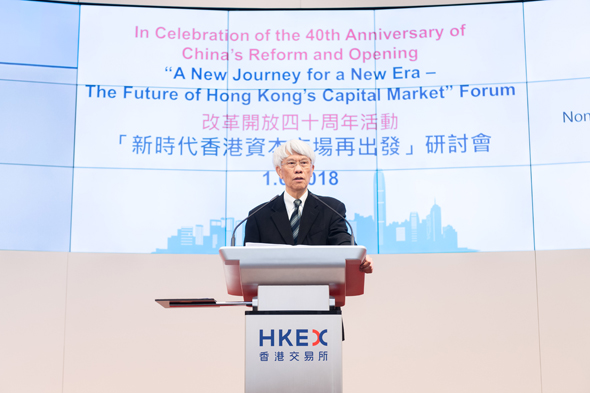 Non-official member of Hong Kong Executive Council Joseph Yam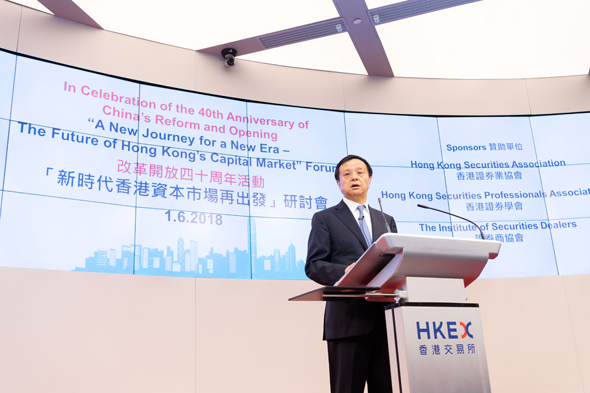 HKEX Chief Executive Charles Li